Photo made possible by Universal Pictures.
Announcement | My Big Fat Greek Wedding 2 Advance Screening Opportunities
AHEPA has tickets 
to see a special advance screening of
My Big Fat Greek Wedding 2
, starring Nia Vardalos and John Corbett, in select cities across the country on Monday, March 21, announced Supreme President John W. Galanis.
Tickets to this special invitation-only private event are available to AHEPA. Ten couples will be chosen from 55 different cities across North America to receive complimentary reserved seats to the event.
Check out

 

www.mybigfatgreekweddingmovie.com for more information on the film. AHEPA Headquarters will be sending the tickets to those who were selected by Supreme President Galanis.

 

My Big Fat Greek Wedding 2opens nationwide Friday, March 25.
 (L-R): AHI President Nick Larigakis, Executive Director Mossaidis, and AHI Foundation President Dr. Spiro Spireas. (Photo credit: AHI, Bill Petros)
AHI Honors AHEPA Executive Director Basil Mossaidis
Congratulations to AHEPA Executive Director Basil Mossaidis, who was honored with the 
American Hellenic Institute's (AHI)

 
Hellenic Heritage Achievement & National Public Service Award, March 5, at AHI's 41st Annual

 

Hellenic Heritage Achievement & National Public Service Awards 

Dinner held in Washington, D.C. Several Ahepans were on-hand to congratulate Brother Mossaidis, including: Supreme President John Galanis, Past Supreme Presidents Anthony Kouzounis and Phillip T. Frangos, Past Canadian Presidents Nick Aroutzidis and Anthony Mavromaras, Past Supreme Treasurer Col. Nick Vamvakias, and Past Supreme Governor Peter Baltis, among many others. 
Call for Applications: 2016 AHEPAcademy Session
High School Juniors:
Join a select group of Greek American students from across the country for AHEPAcademy, from June 26 – July 2, 2016 at
George Mason University, outside Washington, DC. AHEPAcademy is a leadership and professional development program that identifies, educates, inspires, mentors, advances, and networks exceptional Greek-American high school students as they progress through their high school, college, graduate and professional careers. AHEPAcademy is looking for exceptional Greek American high school juniors during the 2015-2016 school year with top grades (minimum 3.5/4.0 GPA or equivalent, or Top 10% of Class), who exemplify scholarship, leadership, character, participation in extracurricular activities, community service, and involvement in the Greek American community to apply for selection to this summer's AHEPAcademy on Campus program.
ICYMI | AHEPA Voices Deep Concern about Refugee Crisis in Greece; Will Not Tolerate Isolation of Greece
Supreme President John W. Galanis issued a February 25 statement on
the refugee crisis in Greece:
"AHEPA is concerned deeply about the inability of the European Union and Turkey to manage the flow of refugees to Europe, specifically to Greece.  The American Hellenic community deems it unacceptable and an outrage that Greece is left to carry a large share of the refugee crisis burden based in part on geographic location and its 8,700-mile border – the largest in Europe – amid a crippling economic crisis.  Greece is a reliable NATO ally and EU member-nation and finds itself under enormous economic and social pressure…
WASHINGTON UPDATE
AHEPA Applauds Passage of Megellas Post Office Bill
AHEPA applauds Congress for passing legislation that designates a U.S.
| | |
| --- | --- |
| | |
| | Speaker Paul Ryan shares a moment with Lt. Col. Megellas at AHEPA, Hellenic Caucus reception. |
Post Office located in Fond du Lac, Wisc., as the Lieutenant Colonel James "Maggie" Megellas Post Office, March 3, 2016, announced Supreme President John W. Galanis. The U.S. House of Representatives passed the Senate's bill by a 406 to 1 vote.  The bill goes to President Barack Obama for his signature.
"We sincerely thank the U.S. Congress for honoring Lt. Col. Megellas by naming a post office after him," Galanis said. "Brother Megellas is most deserving of this honor. We hope to be with him at the ceremony."
In February, AHEPA, in cooperation with Congressional Hellenic Caucus Co-chairs U.S. Reps. Gus Bilirakis (R-FL) and Carolyn Maloney (D-NY), and U.S. Rep. Pete Sessions (R-TX), hosted a
congressional reception
for Lt. Col. Megellas and
backed congressional action
to have Megellas' Medal of Honor case reviewed by the Secretary of the Army.
Ohio Gov. Kasich became an Ahepan on June 10, 2011.
Did You Know? | Ahepans Who Ran for President
Governor John
Kasich
, a member of AHEPA Chapter 139, Columbus, Ohio, is the latest in a long list of Ahepans who have sought the nomination of his party for president.  Other Ahepans who launched presidential campaigns include: Sen. Chris
Dodd
(2008), Sen. Paul
Tsongas
(1992), Gov. Michael
Dukakis
(1988), Sen. John
Glenn
(1984), Sen. Edmund
Muskie
(1972), and Vice President Hubert H.
Humphrey
(1968).  Presidents Franklin D.
Roosevelt
, Harry S.
Truman
, and Gerald R.
Ford
were Ahepans.
Hellenic Caucus Membership at 134.
Help It Grow.
ACTION ITEM |

 Help Us Grow the Hellenic Caucus!
Congress has returned to Washington to commence the Second Session of the 114th Congress.  
AHEPA asks that you help us to grow the Congressional Caucus on Hellenic Issues to newer heights.  
The Hellenic Caucus has been an active, bipartisan group in Congress since its founding in 1995.  It is co-chaired by U.S. Reps. Gus

 

Bilirakis

 

(R-FL) and Carolyn

 

Maloney

 

(D-NY).
Membership in the Hellenic Caucus

 
stands at

 

134.
Save the Date!

 

| 2016 AHEPA Family Capitol Hill Day
Capitol Hill Day Kick-off Reception
Cannon House Office Building – Room 340
Meetings with 
Your 
Legislators
and their Staffs Will Follow
Educate Your Legislators about
Help Build the Hellenic Caucus
Walk the Halls of Congress with Fellow Advocates from
Make Plans to Attend Today
!
Ahepans tour the Saint Nicholas construction site.
AHEPA is determined to meet its Saint Nicholas Capital Campaign fund raising goal. The administrative year is well underway and donations–large and small–are pouring in for AHEPA's
#RebuildStNicholas
cap
ital campaign.
Thank you to our recent donor, 

Nathan Hale Chapter 58, Hartford, Conn.

, which donated 

$1,000

 help #RebuildStNicholas.
Our

 

#RebuildStNicholas

 

campaign

 

webpage

 

has been updated to reflect the many generous donations we received over the summer.
Has your district or chapter organized a fundraiser for the campaign to #RebuildStNicholas?  Take action and support AHEPA's campaign today! P
lease tweet about your fundraising activity by using #RebuildStNicholas to share your work with the broader community!
PROJECT UPDATE
Thanks to a

 
live webcam
, you can watch progress being made with a first-hand look at the site where Saint Nicholas National Shrine will be build.
The Ahepan


The winter issue of 
The Ahepan
 

is out! Share it with family and friends by forwarding this electronic version.  
Read about how AHEPA honored excellence in the Boston community and maintained its commitment to education through its National Educational Foundation.  Also, check out the latest on how AHEPA chapters give back to the community.
Click on the magazine icon to read it today!
Upcoming Events

April
May
25 | Capitol Hill Day
Greek American News Digest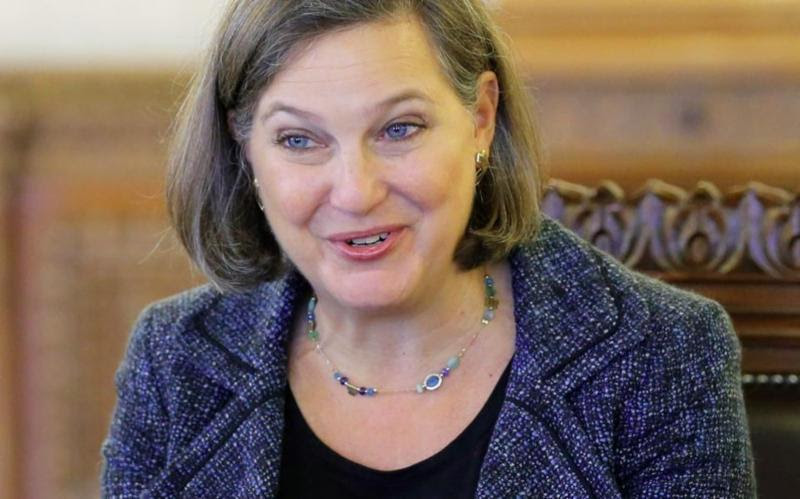 US official set for border visit 
Ekathimerini
 

(Mar. 6) US Assistant Secretary of State Victoria Nuland may visit Greece this week with the aim of viewing firsthand the impact of the refugee crisis, sources in Brussels have told Kathimerini.  Nuland may arrive on Thursday and is expected to travel to Idomeni on Greece's border with the Former Yugoslav Republic of Macedonia (FYROM) to visit the refugee camp there, which is expanding by the day due to the small number of people being allowed to cross into the neighboring country.  
read more
Greece and Turkey build on plan for return of refugees

 
Ekathimerini

 
(Mar. 8) Greece and Turkey signed a readmission agreement for migrants who cross the Aegean to be returned, building on the basis for a potential deal between the European Union and Ankara brokered in the early hours of the day regarding the direct resettlement of refugees.  read more
Migrant 'exchange': Turkey accepts mass returns but sends Syrians to Europe
 

The Washington Post (Mar. 8) The European Union and Turkey struck a preliminary deal Tuesday to block the vast waves of migrants crossing the Aegean Sea, effectively agreeing to slam shut the backdoor into Europe still being traversed by tens of thousands of asylum seekers fleeing war in the Middle East.  read more
As the route to Europe closes, migrants journey through grief The Washington Post

 

(Mar. 5) As Prime Minister Alexis Tsipras puts it, Greece is now "a warehouse of souls."  In the freshly shoveled earth, lines of white tents stand in rows, the bunks inside filling up as fast as the army can build them. This camp in the north – one of more than a dozen being rapidly deployed to house a logjam of stranded migrants – is only days old. But flies already buzz around trash heaps. Food lines – for sandwiches on moldy bread – stretch around corners. Breezes bring stenches of sweat and sewage. Babies cry, their mothers soothing them in Farsi, Dari and Arabic.  "Sir, please, can you help me?" a soft-spoken 29-year-old named Mohammad Yousof asks a foreign journalist in excellent English, his voice breaking. An Afghan economics professor, he is running, he says, from the Taliban. "I should not be in this camp. I don't belong here. I was important. A VIP. I need help. Please. Can you please ask someone to let me cross?"  read more
From the Elgin marbles to the Cambridge cockerel, it's time to return stolen goods

 
The Guardian 
(Mar. 7) O
n a trip to Mali a few years ago I visited the

 
national museum in Bamako
. The items on show – bowls, jugs, weapons, clothes – were fascinating but limited. For someone raised on London's museums, where there is an abundance of every artefact you could imagine from all parts of the globe, there was enough to whet the appetite. But it took just 10 minutes to see everything.  read more
Theodoridis appointed UEFA's acting General Secretary
EuroNews
(Mar. 4) Theodoros Theodoridis was on Friday named acting General Secretary of the Europe's continental confederation UEFA.  The 50-year old Greek administrator joined UEFA in 2008 and has been in charge of relations with the European national associations.  He is a former board member of the Hellenic
Football
Federation and was most recently UEFA's deputy secretary general.  He said: "Now it's the moment for UEFA to show real solidarity and to be close to the other confederations, and especially to stop…all this relationship… to change completely the relationship with
FIFA
, and to make it productive for football. That's our mission, and that's what we have to do. It's an opportunity of a lifetime; we cannot get it wrong.  
read more
Greek Culture: The History of the Hellenistic World In CoinsGreek News Online

 

(Feb. 28) "My aim in writing The Hellenistic World: Using Coins as Sources (Guides to the Coinage of the Ancient World) was "to show how rich and nuanced a history of the Hellenistic world one can write through the beautiful gold, silver and bronze coin-issues of its kings and cities." says the author Peter Thonemann, Fellow and Tutor in Ancient History at Wadham College, University of Oxford.  The Hellenistic World: Using Coins as Sources (Cambridge University Press, January 1, 2016) is the first of a new book series, Guides to the Coinage of the Ancient World, jointly produced by the American Numismatic Society and Cambridge. The series is designed to introduce students to the ways in which ancient Greek and Roman coinage can be used as a historical source, not only for political history, but economic, social, and art history as well," Dr. Peter van Alfen, Margaret Thompson Curator of Ancient Greek Coins, American Numismatic Society, told the GN, "With three books currently in preparation on the coinage of Athens and the Athenian Empire, the coinage of Alexander the Great, and the coinage of the Roman Republic, the series will continue to explore various periods and areas of ancient studies."  read more


'Breaking Bad' Producer George Mastras Heads to HBO

 

Greek Reporter

 

(Mar. 4) George Mastras, the producer of the critically acclaimed popular hit "Breaking Bad", has just inked a two-year overall deal with HBO.Masters worked on all five seasons of "Breaking Bad", and was nominated twice for Emmys for his role behind the scenes, in 2010 and 2012; he also won two Writers' Guild Awards for the series.Although HBO has not yet released the titles of the projects that Mastras will be developing, he is currently in negotiations to get on board the 1970s rock and roll drama based on a concept by Mick Jagger. Martin Scorsese will direct and executive produce, while Terence Winter will write and executive produce.  read more
Giannis Antetokounmpo Rises over Serge Ibaka for the Emphatic Slam
Bleacher Report
 

(Mar. 6) You see Oklahoma City Thunder point guard Russell Westbrook and power forward Serge Ibaka.Charging Milwaukee Bucks forward Giannis Antetokounmpo sees a clear path to the basket.Late in the first quarter of Sunday's game, with the Bucks down by 18, the Greek Freak rebounded a missed shot by Thunder center Steven Adams and strode the length of the hardwood in seconds.Confronted with the Oklahoma City defenders, the 21-year-old expertly euro-stepped past Westbrook and, blasting off the court, rose way up for a slam-directly over top of Ibaka.Crowd ignited, team motivated plus the and-one-which Antetokounmpo converted.  
video
Nancy Phyllis Horton Dies in Athens at 103 
Hellenic News of America

 
(Feb. 23) The occasion was a poetry reading on January 16, 1999 in the Cornelia Street Café, New York City, by Nancy Horton, daughter of the late Honorable George Horton, eyewitness to the Asia Minor Catastrophe, and Catherine Sacopoulos Horton of Smyrna, Turkey. The room was filled to capacity by devotees of Miss Horton who came to hear her poetry and stories about her father's life.  
read more